Tim Stevenson's Andrillot II was the original Rustler 37, launched in 2014 and he's owned her ever since. "It's one of the best decisions I've ever made," he says. It's quite fitting that Tim's now owns the first Rustler 37 because her namesake, the original Andrillot – the first of Jack Laurent Giles's famously seaworthy 25ft Vertue Class yachts, launched in 1936 – was in his family for almost 40 years.
"She was a beautiful sailing boat, very stiff but not very good at going to windward and she didn't have many mod cons or a lot of space," he says. "We had sailed a fair distance in her, but I was looking to get something different." In Andrillot II he has sailed a good deal further, including the AZAB (Azores And Back) ocean race in 2015.
What made you choose a Rustler?
I looked at other makes of boats and there was always something about them that I didn't like. I've always admired the Rustler 36, it's a lovely boat, but a bit too much like a grown-up Vertue. On the Rustler website I noticed a post about a planned Rustler 37 designed by Stephen Jones and that got me thinking. My late father and I always thought that around 38ft was the maximum someone can handle singlehanded. It's also a nice size for waterline length and fitting everything in.
"I looked at other makes of boats and there was always something about them that I didn't like"
I was in a very fortunate position of having had a successful few years at work and was in a position to be able to make a large purchase such as a Rustler. If I could do that with a British yard and a boat built by British people designed by a British designer, probably one of the best designers in the world, then that was very tempting for me – and I say that as an ardent European, not from an anti-European point of view. If I'm spending my money in the UK, I'm helping people in the UK, preserving the creative skills of the artisans that build these boats. We should be doing that. So I contacted Adrian and Nick at Rustler and the rest, as they say, is history. You couldn't want to deal with better people, they are absolutely marvellous.
What appealed about the Rustler 37 design?
I thought, If I'm going to buy a boat, I'm going to buy a proper boat. I loved the cutter rig and that was one of the things about Andrillot, the original Vertue, she was a cutter with a bowsprit. A lot of the later Vertues have slutter rigs because they don't have a bowsprit.
On Andrillot II, I have a hanked-on staysail that sets on a removable forestay. The Rustler 42 has an even better cutter rig with a furler on the inner staysail. I don't use the staysail that often, but it is really nice to have it – on a broad reach, the yankee plus the staysail plus the mainsail with one reef in it (for the sake of argument) is absolutely fine and you can carry on for a very long time with that rig. If the weather then gets really bad, you can furl the whole of the yankee and put two or three reefs in the main, keep the staysail and carry on going. I tend not to leave the inner forestay on all the time, simply because if you're tacking the genoa you have the friction of that coming through. But if I'm on a long passage and the wind is on the beam, I'll have the staysail on, the inner stay set and the running backstays ready to go.
What was it like working on a new model?
I had as much input as I wanted. There were four people around the table: Adrian and Nick, Stephen Jones and me. In terms of sailing knowledge, I would put myself at the bottom of the list. Adrian has done a huge amount of sailing, Nick is a very experienced sailor who really knows his stuff, as did his late father David who chipped in quite often as well. Then there was Stephen Jones who's like the messiah of yacht design and a marvellous chap.
There were a few big decisions. One was the mainsheet track and system, and you can still argue it either way. We went for having the track forward of the companionway and sprayhood, with a German mainsheet system led aft to a winch by the helm. There is no mainsheet risk or traveller risk in the cockpit and that is absolutely superb. What you potentially lose, and this was the discussion we ended up having, is control of the leech. But in fact, because that track is quite far aft, if you work the mainsheet tension and the vang together then you have perfectly good leech control and the boom has a strengthened section to handle the load. Adrian, Nick, David and Stephen were absolutely right.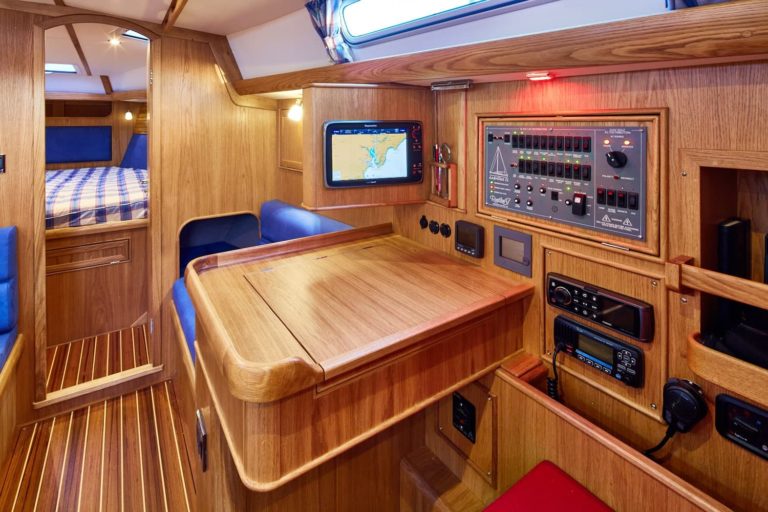 The other tricky decision, and it's still a debate, is the chart table. Do you have it facing aft, which means you're sitting on the berth on the starboard side of the boat with a bunk berth near the companionway, or do what we did and have a forward-facing chart table? It does mean that the starboard bunk isn't terribly practical – if you sleep there, you'll have your feet in the trotter box and your head a little bit under the chart table.
On long passages, for example on the AZAB in the Bay of Biscay, running before the wind (and there was a lot of wind), I preferred to be amidships on the port side of the boat with lee cloths. I strapped myself in there and slept like a log. Or you can go to the aft cabin quarter berth, which is a lovely comfortable berth on passage too. I dream of crossing the Atlantic one day, I think with a crew of three or four, and if you did it with four you still wouldn't need that starboard side bunk.
"On long passages running before the wind, I preferred to be amidships on the port side with lee cloths"
There was a lot of discussion about the position of the inner forestay, and I still sometimes wonder whether it would be possible to have a bigger inner staysail on a furler. The problem is that the lovely bosun's locker is up forward and you can't attach anything solid to its lid, so it has to be aft of that or further forward. The problem with it being further forward is that the anchor windlass is in the way.
Those were the sort of discussions we were having, and I'm happy that at the end of the day we've got as good a solution as we're ever going to get. She's a delight to sail, she's really well balanced. In heavy weather you've got the staysail if you need to go down to that.
How did you find the build process?
I went down there as much as I could during the build process. I started off going to see the moulds. Then going down to see the moulding of the hull, which came out really beautiful, much better than we expected, it's really smooth. Then I was there for the bulkheads going in. I wanted to know where everything was and how everything was coming together.
Steve, the guy who built it, was just fabulous. It was interesting to see the way it was coming together; the plumbing, the electronics, the way the conduits are put in place and the strengthening in various places, the strength of the floor frames, the engine going in and so on. They were absolutely superb with their attention to detail. I climbed into every single locker.
One day I got into the huge cockpit locker and there was a shelf in there. I mentioned it to Steve. "Yeah," he said, "I've got one of those on my boat, it's the most useful thing, you can put your boathook and everything else on there and it stops it falling about" – and he was right. You can just reach in and grab things off it and I have a bracket on it for my outboard. That was only possible because someone thought about putting a shelf in there. It's that sort of attention to detail you get throughout the build, which is exactly what you want and what you need.
What was your favourite part of the process?
My favourite part was seeing it all come together, seeing the beautiful finish on the woodwork. They have a little room down there at Rustler, separated off with dust screens, where all the varnishing is done. It's lovely going into that room and smelling the varnish, seeing what's going on and thinking how do you ever get a finish like that? It's beautiful. Then going from that, onto the boat and seeing it all come together, it was just wonderful. Then the launch.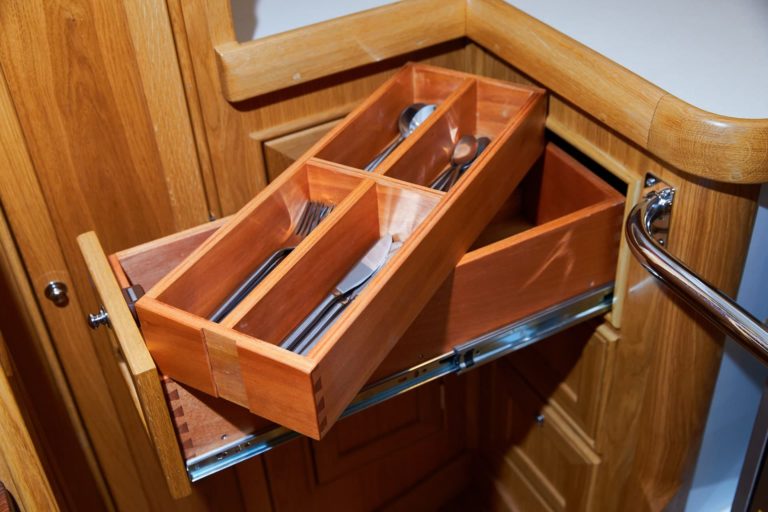 Where have you sailed her?
Since she was launched I've done the 2015 AZAB – we were third in class on the way out and fourth on the way back. I'm hoping to do the AZAB again in 2023, hopefully with my son.
We've also been down to Brittany a few times. On the way back once we were going north through the Chenal du Four and I said to my crew, "Those overfalls are looking a bit rough, I think we'd best put a reef in." We put a reef in and the wind increased to Force 5-6 from the north-east. Now we had wind against tide and it was rough as hell but the boat was absolutely fabulous, we had 23, 24 miles of overfalls but it was absolutely fine. You're just glad you're in a really stiff, well-found boat.
What do you like most about her?
If you look at other yachts, they have their weight in the wrong places whereas the Rustler 37 has all the weight over the keel: mast, fuel tanks, water tanks, batteries, engine, everything is right over the keel so it's all very low and in exactly the right place, which makes a huge difference; it makes the boat that much stiffer. When I sail somewhere, I don't want to arrive feeling like I've just been sitting in a washing machine for the last 22 hours.
Another thing I love about the Rustler 37 is the nice wide decks. There's plenty of room on the decks to move around, and most of all feel safe. Doing the AZAB in 2015, on the way out it was quite heavy going – up to 38 knots from the NE – and occasionally we would get a lot of water over the deck and those drains would work absolutely fine, really well. In fact the whole boat worked really well, but I loved those wide decks.
We had three successive days of more than 170 miles on the AZAB and I reckon, knowing the boat a bit better as I do now, that in the right conditions a 200-mile day in a Rustler 37 is possible, it would be a bit full-on but it would be possible.
"I reckon that in the right conditions a 200-mile day in a Rustler 37 is possible"
The way she takes everything on is absolutely superb, she's a very relaxing boat to sail. You can set her up and she'll pretty much sail herself. It's also the reliability of everything. She is small enough to handle easily and yet big enough and stiff enough to be very good in a sea. Down below, the galley is the perfect size to wedge yourself in and do what needs to be done, yet large enough to make nice meals. The heads and shower are ideal, small enough to be comfortably jammed in while "sitting and thinking" but ideal for a shower as it's all enclosed.
One of the saddest times for me was after five or six weeks on the AZAB – actually leaving the boat, coming back and having to go back to work because I so enjoyed myself. It's the sort of boat where you're very comfortable down below. When Mary and I go off cruising and the weather turns bad, we can sit on the mooring put the tonneau cover up so we have a dry cockpit, cook a nice meal down below, be nice and snug and settle in with a book. It's just really relaxing.
She's very good to sail and I'm delighted with her in every way.
What equipment or options have been good decisions?
Having the wooden decks has been lovely, I'm really glad I did that. Having a heater is a very good idea, it's not always balmy and warm and it adds to the comfort. The GN Espace cooker is fabulous, that's standard and Rustler fit the best – it has been great. I also have a symmetrical spinnaker, launched from a sock, which I've flown on my own in light winds, sailing singlehanded coming back from Falmouth.
After sailing her for seven years, would you change anything?
I do sometimes wonder – and it would be very extravagant – if I got a carbon fibre mast whether that would make a big difference because you wouldn't have all that extra weight. In terms of the stiffness of the boat, you're enhancing it even more.
What are your plans for her in the future?
People always say they are going to sail off around the world. I would love to just go off sailing but I can't see my lifestyle is right and I'm not sure I have the personality and the character to do it all singlehanded anyway. But I would love to cross the Atlantic, I'd like to do longer distances and I see no reason why that isn't possible, but I just need to set a date and work towards it. I'm hoping to sail up to Scotland this year and maybe southern Ireland at some point.
Any regrets?
I haven't regretted buying it for a minute. I think it's one of the best decisions I've ever made. For a start, it will hold its value because it's properly built, it's not going to fall apart after five years, and that's a really important thing to think about. Secondly, you have the reliability and the strength of the boat, which means you know it's going to look after you. Lastly, Rustler are just the nicest people you could ever want to deal with, nothing is too much trouble and they get things done for you.
The only regret I've got is that I don't seem to have sorted my life in such a way I can get on my boat and stay on it, then set off and sail. So not spending enough time on it is my biggest regret.
I think it's a complete false economy to be looking at cheaper production boats and think 'I'm buying a nice boat'. I know I was in an incredibly lucky position to say that I can afford a Rustler, and I'm delighted I did.