Rustler 33
Elegant weekender with coastal cruising potential
The Rustler 33 is beautiful. She is the perfect antidote to yachts whose designers have forgotten what pleasure there is to be had in simple aesthetic beauty.
Combine the superior handling qualities of her traditional design with the practicality of modern materials and systems and you have the ideal weekend sailor. As a larger stable-mate of the hugely successful Rustler 24 dayboat, the Rustler 33 is an all new design, with grace, and classic well judged overhangs she really will turn heads wherever she is seen. A lead fin keel, fully balanced rudder and large easily handled rig offer first class performance without drama, and a small inboard diesel will always get you home if the wind dies!

Whether day sailing, anchoring off a beach for a swim and a picnic, staying on board for a night, or indeed racing around the bay, the new Rustler 33 will surprise and delight you.
Interior
The interior joinery is constructed from high quality materials, and in accordance with the very best yacht building practice. Our team of craftsmen at Rustler build exceptional interiors, blending the best of the traditional and modern techniques.

The standard interior layout is a large double berth forward with two settee berths to port and starboard. There are separate heads to port containing a toilet and hand basin with access to the wet locker from behind the toilet.
The galley area to starboard has a basin outboard and room for single burner stove with galley stowage behind the cooker area. All the cabin woodwork is finished with a satin finish varnish or painted in eggshell white.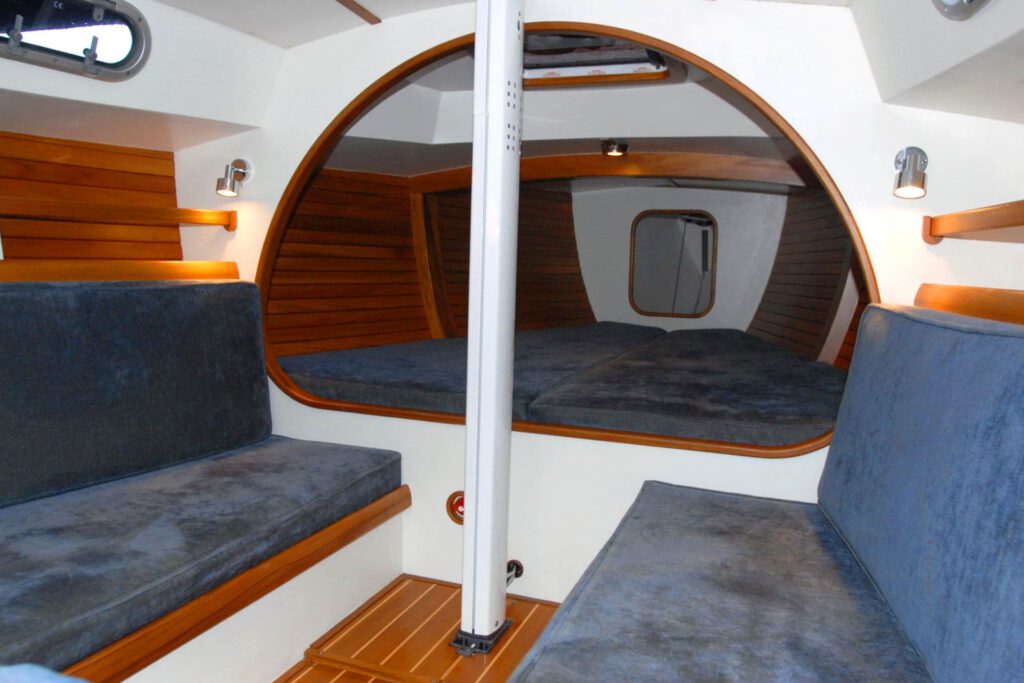 Principal Dimensions
| | |
| --- | --- |
| LOA | 34ft – 10.36m |
| Beam | 8ft – 2.44m |
| Draught | 5ft 6in – 1.67m |
| Ballast | 2204lbs – 1000kg |
| Displacement | 6283lbs – 2850kg |
Sail areas
| | |
| --- | --- |
| Main | 284sq ft – 26.38sq.m |
| Jib | 201sq ft – 18.67 sq.m |
| Asymmetric Spinnaker | 568sq ft – 52.83sq.m |
Construction
| | |
| --- | --- |
| Hull | Resin infused GRP |
| Deck | Resin infused GRP |
| Designer | Stephen Jones |
Technical details
Design
Designed by Stephen Jones. A new design with the intention of being easy to live with, simple to sail and cosy accommodation for a weekend away.
Hull
Resin infused. Construction to Rustler Yachts exacting quality standards.
Deck
Resin infused. Moulded in non slip. Option for teak decks.
Sails
Main and jib with cross cut construction in 8oz woven polyester.
Mainsail (26.38m2) including 2 reefs.
Jib (18.67m2) 105% furling headsail including UV strip.
All sails are supplied with labelled sail bags and ties.
Deckwear
All Harken.
Engine options
Nanni N2.14 (14hp) diesel engine with sail drive.
Sound insulated engine compartment under companionway steps and bridge deck.
A Rustler 33 sailing in Falmouth Bay, Cornwall
Would you like to know more about the Rustler 33?
German agent
Vertretung Fur Rustler in Deutschland, deuschsprachige Schweiz, Osterrieich.
Thomas Kholer
Isarstrasse 19, 86179 Augsburg