David Sketchley's Rustler 42, Westward, was launched in 2021. Named after the famous 1910 Herreshoff racing schooner, she was the first Rustler 42 to sport a carbon fibre mast but it's not just her rig that was new. She also has a unique interior layout and cutting-edge battery charging and power management systems. We caught up with David after his first season with her to find out more about him, and about this extensively customised boat.
What led you to Rustler for your new boat?
I'd owned a few boats before: a 4½-ton 22ft wooden boat, a Sadler 26, a Moody 34, then a Rival 34 which was a really good sea boat. I knew the type of boat that I wanted, a heavier displacement yacht with a fin and skeg that would be comfortable and OK in heavy weather, not throwing me all over the place. I had been out of sailing for about 10-12 years because my wife wasn't terribly well, so I couldn't do very much during that time. But I'd spent the last 15 years thinking about the next boat I would get.
A few years ago, my wife and I were on holiday in Cornwall, just when the Golden Globe yachts were in Falmouth. I'd blagged my way onto the marina and was looking at the boats several of which were Rustlers. As we were driving away from Falmouth I said to my wife: "One of these days I want to go around the Rustler yard, wherever it is, because I really like their 37," at which point my wife pointed to my right and said, "It's there!" We just happened to be driving past the Rustler yard.
I buzzed the door; Adrian came down and I asked for a brochure of the 37. He was very helpful and welcoming, and invited me in for a chat. I explained the boats I'd had before and what I was after. He said there were two 37s in build, "come and have a look". I must have been with him a couple of hours, going through the boats and looking around the factory. He asked whether I'd like him to arrange a trial sail. I said, "I don't want to waste your time anymore, I'm not in a position to order a boat at the moment, but one day that will be my plan." We left it at that. At the boat show later that year I visited their boats and spoke to Nick, who again was very helpful. He took the time to show me over the Rustler 37. Then, unfortunately, my wife died, which brought about a change in my life. I said to my lads: "What I'd really like to do is have a boat built." To which their answer was a resounding "go for it".
How did you decide on the Rustler 42?
I'd been around the old Bowman yard and sailed a Bowman 40, I'd also sailed extensively on a Hallberg Rassy 46 and had been to Orust and looked at various Swedish boats including the Najad, Malo and Hallberg Rassy yards. What made a big impression on me with Rustler was the personal contact and involvement for an owner in every aspect of the build process, the detail behind the scenes, the things you don't see unless you particularly want to go and find them, everything just felt right.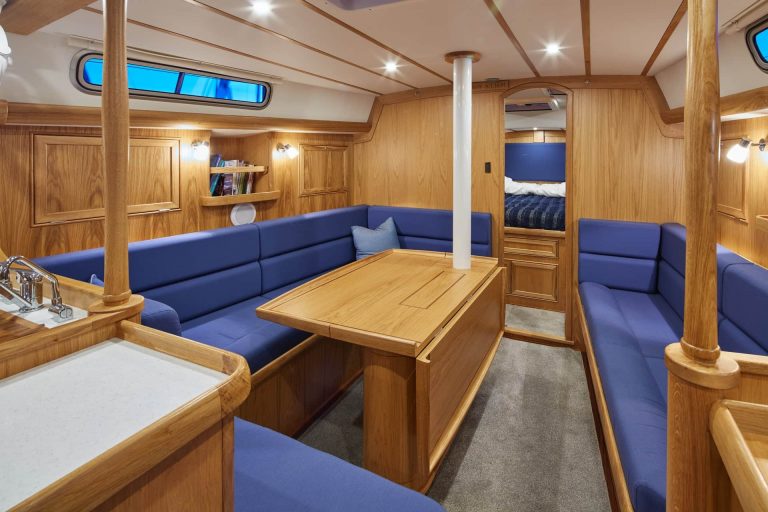 The whole team take the pride in what they do, whether it will be seen or not. That was impressive. The quality of the build was really important to me. Having seen the Rustler guys and been around the factory and, what with Brexit, I thought I'd like to have a boat built here in the UK and Rustler have a great name.
I got back in touch with them and had a trial sail on the R37 on the Solent. I thought "yep, what a lovely boat", but at that stage I was trying to decide what type of sailing I was going to do, who I was going to be sailing with, how much was I going to do on my own, how much with family.
Having sailed the Rustler 37, which was a lovely boat, I thought I could handle a bigger boat. I talked to the family, they said "Yes! Get something bigger" so I went back to talk to Adrian and ask if they could fix me up with a test on a Rustler 44. We sailed a 44 on a blustery day in Falmouth, she was a lovely boat too. I loved the layout, but I thought she was a little bit big for me to handle singlehanded.
Everyone says you should be honest with yourself about what sort of sailing you are going to do. I came off the Rustler 44 and was chatting to Nick and Adrian. I said I want you to build a boat for me, but I'm not sure which one. Adrian suggested the 42 but I wasn't keen, at the time it didn't feel like one thing or the other; too big to sail singlehanded and too small for the family, but this has proved absolutely not the case with or without the powered systems.
Against my better judgement, Adrian said why not come and have a look at one before you go home? My brother had always said, "you'll know when you get on the right boat". As soon as I went on the 42, I thought "that's it, that's the one!" It was just right for me. Adrian and Nick fixed up a trial sail and we signed the contract. But, I said, "there's quite a bit I want to change."
Go on…
I'd sailed since I was about 10 and you always get loads of ideas about the things you want on a boat. We sat down and spent a lot of time talking about the spec. I started "right, let's go from the bow, can I put a bosun's locker in?" Nick said, "no, we can't do it." He explained it would mean moving the inner forestay and bulkheads and it could change her sailing characteristics. Two weeks later he called me and said: "I think we can do it".
Next, I wanted a carbon mast. They said, "yes, great alternative, but we've never put one on a 42." They put me in touch with the boat's designer, Stephen Jones, to have a chat about moving the rig back slightly, putting the bosun's locker in and adding the carbon mast. Stephen said it would all be fine and the slight change to the inner forestay would not change the performance of the cutter rig which I was keen to preserve.
The bosun's locker also meant I could have a wider forward berth. I didn't want the second forward heads, I thought it was just something else to go wrong. Then I went into the centre of the boat and said "right, I want to change the engine." The Nanni is a good engine but having had Yanmar engines on a couple of my previous boats, I like Yanmar and the common-rail diesel, it's very efficient. They said, "Yes" even though it would have a knock-on effect with everything else in the layout and we spent a lot of time on that.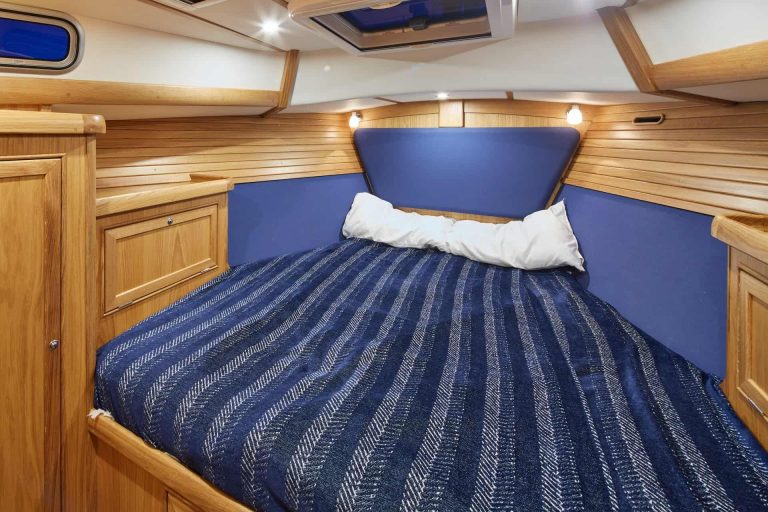 I've sailed the Atlantic a couple of times and been on World Cruising seminars and one piece of advice that stayed with me was that it is a very common mistake to underestimate power requirements, therefore charging and batteries required careful thought. I looked back on my notes from a previous ocean crossing and we were running the generator for three or four hours every day on passage to keep the batteries topped up which I really wanted to avoid.
I didn't want the extra maintenance of a separate generator but I needed to generate sufficient charge from the main engine, so I asked if we could fit a second alternator on the Yanmar. They said: "We've never done that, we don't think Yanmar can do it" but again, two weeks later they came back to me. Nick had had some long chats with Yanmar, who would fabricate the fittings especially to support and run a second 160Ah alternator.
The next big change was having a larger heads compartment. Because I'd done away with the forward heads, I wanted a bigger shower compartment and heads which have worked really well.
Another big change was that on previous 42s you open the door at the back of the heads and there's a wet locker area and behind that a further storage area. I said, "Can we change that? What I'd like you to do is start again and redesign that as an open machinery space to put in a watermaker, tool racks and the heater". They also moved the position of the black water holding tank as I wanted to be able to put maintenance access above it – I've had problems with holding tanks before – so there's a particular rodding eye in the deck by the cockpit that's a dead straight run into the tank and out through the seacock and skin fitting beneath. If there's a blockage it is simple to clear."
With Steve at Rustler using the wonders of CAD, they planned it all out and I was able to look at all the drawings and visuals to agree with everything.
I also wanted a washing machine, as particularly crossing the Atlantic and then sailing for an extended period in the Caribbean, we had found it useful to be able to wash clothes. Without a generator, it runs off an inverter so the plan is to do the washing when the engine is being run to charge the batteries. In our environmentally-concerned times, the washing machine and shower feed into a separate grey water tank. If someone wanted a generator it could also go in this aft space. The installation of everything on board is absolutely out of this world, everything is accessible, clearly labelled and everything works.
"If someone were thinking of buying a Rustler, don't hesitate for a moment if that is the type of boat you want"
One thing I'm also happy with, and something that used to drive me nuts, is the tender. Everybody has an inflatable dinghy that they inflate to use, then deflate and put into the stern locker, it's big and heavy and it's a problem getting it in and out. I said to Rustler, what I'd like to do is put a folding RIB (FRIB) on the coachroof. We talked for hours coming up with different ideas, lifting it on the boom or halyard, moving the liferaft to the stern, etc. They have fitted a power socket so I can unfold it, turn it 90 degrees in its purpose-made deck chock and inflate then lift it over the side with the main halyard on the powered winch. While I might not leave it on deck if crossing the Atlantic again, for sailing around the UK and Europe etc it has so far proved perfect and is quick and easy to launch and recover.
There were many other smaller things we fitted. For example, I wanted a chain counter and windlass controls in the cockpit as well as on deck so if I'm sailing singlehanded it can be operated from the wheel.
The gestation period of this boat was longer than normal because of Brexit and then Covid, so what should have been a seven- or eight-month build turned into two years. What I admired about Nick, Adrian and the team was they kept me informed, although it was a very difficult time for them with supply problems. They talked to me all the time about where we were, how the build was going, and while I couldn't go down there after the first four months into the build as Covid lockdown hit, they were emailing photos and we were having regular discussions about every detail. I don't have one minute's regret building it with them, the journey with the design and build has been a huge pleasure and it's been great to have been able to build my boat there; it showcases the quality of build that can be achieved in the UK.
Can you explain your charging system?
Simon at Rustler is an absolute genius. What he's done and how he's fitted the boat with all the systems is amazing, he knows it inside out and back to front. I've got a really good and reliable engine with two alternators. If a belt fails on one alternator, I still have 160Ah going into the batteries. We have lithium-ion batteries that hold a big charge, and you can charge them a lot quicker.
Nick and Simon then had a lot of discussions with Mastervolt about the systems. There have been past problems with alternators getting hot, so there's a temperature control in the engine bay, there's a fan system in with the batteries. It's a very sophisticated system to put in place and it was signed off by Mastervolt and Yanmar.
"From the moment I got the boat, it is absolutely everything that I ever wanted it to be"
Yanmar visited the yacht while she was in build to make sure the engine installation was right; they were in touch regularly with Mastervolt to make sure all the integrated battery management systems were all talking to each other and so on. It's a completely integrated engine and battery management system that's connected to the CANbus network and I can bring up all the details on the chartplotters either on the helm or at the chart table, I can see what the battery levels and fuel consumption are. There is also a Mastervolt display to tell you exactly what each battery state is, the discharge rate, how many amp-hours are left in the batteries, what each battery is doing. You can see in real-time the effects of using the autopilot, an electric winch or using the windlass for example. The bottom line is, I have a really good system that tells me at any minute what it's doing.
I run the Yanmar engine at 2,000-2,500rpm to get me out of the harbour and out to sea at 5-6 knots. I can leave the mooring, put the sails up, go off sailing with the autopilot, instruments, fridge and use the electric winches etc and after 24 hours, the batteries may be down to 60% capacity. By the time I'm back on my mooring, after 40 minutes of motoring, they are fully charged. At those revs, I find it only burns a little over a litre an hour.
On longer passages, the Watt & Sea generator comes into its own. It's a great pleasure to sail using the Hyrdovane and not have to run the engine for charging. [editor's note: we will be covering the charging system in great detail in a later article]
How have you found your new boat?
From the moment I got the boat, it is absolutely everything that I ever wanted it to be. It is a lot quicker than I thought it was going to be, and its motion at sea is really comfortable. Although we didn't go too far last year – we didn't get it until May – we've been up and down the south coast, from the Isles of Scilly to Southampton Boat Show. For the 1,500 miles we did, the boat was fantastic. It's absolutely everything I could ask for and a dream to sail, easily handled shorthanded and I'm completely over the moon with it.
I've been most impressed with the charging system and how smooth and frugal the engine is and how I can motor using just over a litre an hour, it will charge the batteries and I don't have to worry about any of it, I can just get on with sailing the boat. I've sailed so many boats where there's been problems with the engine, with charging the batteries and so on.
I was hoping to do the ARC with her this year (2022) but what with Covid, Schengen, and questions about movement between Islands in the Caribbean I might delay that a year. As an alternative, I am planning some longer trips across to Ireland and then hopefully up to Scotland. I'd like to spend more time on the boat and I've told work that from May they're not going to see me. I'm taking six months off and going sailing!
Can you describe her sailing properties?
I wanted a cutter rig. Sailing short-handed, I liked the idea of having a sail system that I can gradually reduce, bit by bit, without having to be on the foredeck changing sails or with a large overlapping genoa that you gradually furl down smaller and smaller with the shape all wrong and it not driving the boat properly.
I wanted a hull shape that was not going to slam and that would be comfortable in a seaway. Sailing the 37, and even more with the 42, they have a sea-kindly motion that I really like. I have been surprised by how quick it is, it is a faster boat than I thought it would be, which is perfect, and it's so well-balanced even on the Hydrovane. You can sail her for days on end and it's not tiring, whereas some of the lighter displacement boats can be exhilarating to sail, but not for long periods, I couldn't do that with my advancing years!
"Although I am now 70 I have found sailing Westward very straightforward and effortless"
She tacks and holds her way through the tack and is perfectly balanced. If you're down to three reefs in the mainsail and the staysail, you can just tack with the staysail sheeted and she'll just sit there, hove-to. I'm still learning an awful lot about the boat, but it's a dream, an absolute dream to sail.
What do you like most about your boat?
That's a difficult one. The electric main halyard winch! Joking apart, it really isn't just one thing but rather the sum of its parts. My partner and I spent a month together on Westward, going down to the Isles of Scilly, and found it not only a fantastic sailing experience but a nice boat to live on too. It was comfortable and we didn't want to be on any other boat, we just loved being on this one – it did everything we wanted and was just perfect for us. The way it sails, living on board at anchor, it's difficult to name any one thing because we think the boat is just so amazing.
So, there's nothing you'd change?
There's only one thing I'd do differently I'd probably choose another cooker as we are always burning our hands opening it! Other than that, though, because I've had so much input into absolutely everything, there isn't anything I'd change or do differently. I toyed with the idea of adding two hull windows like the ones on the Rustler 57 and having the cabin top portlights opening. I'm not sure I would, but those are the only thing I've thought of when asking myself: 'If I were to do it all again, what would I do differently?'
If someone were thinking of buying a Rustler, I'd say don't hesitate for a moment if that is the type of boat you want: a boat that will look after you, sail well and take you anywhere you want to go to in the world. I wouldn't have any hesitation at all.
She's a very personal yacht, and although I am now 70 I have found sailing Westward very straightforward and effortless; about half of which time has been singlehanded, only occasionally using the electric winches etc. I'm now determined to cram as much sailing in as I can. 70 is the new 50 and I don't intend buying my Zimmer frame just yet!