Ian Robson owned his Rustler 44 for eight years and sailed more than 14,000 miles in her. In all that time only one significant thing went wrong with the yacht 'and that was probably down to the component supplier rather than Rustler,' he reflects. 'You couldn't say more for the build quality than that, except perhaps that Rustlers don't break – it takes a lot to break a Rustler.'
He chose Rustler again for his next yacht and has owned Rustler 57 hull number one Further Horizons since 2019. While Covid has impacted his cruising plans he's still managed to sail the whole length of the Channel from Scilly to Suffolk and across to Holland. We caught up with him in early 2021 to have a chat about how he's found the new boat.
What led you to buy the Rustler 57?
I got to know Nick and Adrian during the build of my Rustler 44. The 44 was a lovey boat. Back then I was still working and I was buying it a couple of years before I was expecting to retire. But by 2017 I found I was in the very fortunate position of ending up being wealthier than I had thought I was going to be, with the opportunity to do another project. I also had more time available so I knew I would be able to make more of a nuisance of myself while the boat was in build.
"I liked the idea of the bigger boat partly because I could, and partly because she was going to have the looks of an upscaled Rustler 42"
The 44 is a lovely boat, it sails well and it took me all around northern Europe and Britain very comfortably and securely. But I liked the idea of the bigger boat partly because I could, and partly because she was going to have the looks of an upscaled Rustler 42. I therefore knew that I'd end up with a boat that would turn heads and perform very confidently.
What other offshore cruising yachts did you look at?
I looked at everything but I liked the idea of buying British and our family have long had a Cornish connection so the idea of supporting a Cornish business appealed to me as well.
I believe she was originally drawn at 50ft and grew to 57ft to make sure she really was as delightful and pretty as she actually is. In comparison to other yachts of a similar size, well, there is no comparison. Most of the competitors are centre cockpit aft cabin designs which does give them a massive owners' cabin aft that I'm sure appeals at boat shows. But frankly the resulting cockpits look insecure to me; you end up so high up in an exposed cockpit sat on top of the aft cabin and associated passageways. I therefore wanted a yacht with a big, deep, protected cockpit. I didn't want to be perched on top of the aft cabin. I am a bit conservative and most of the alternatives looked a bit extreme to me.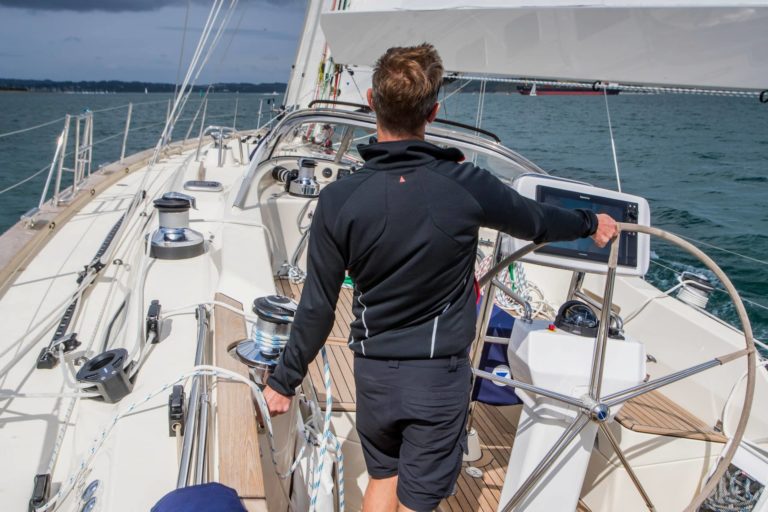 What drew you to the Rustler 57 in particular?
I used to sail a lot with my brother. On the 44 (a two-cabin boat) if I wanted friends to join us as well, I had to move out of the aft cabin to make room which left me sleeping at the dinette. My objective was to find a three-cabin boat, so when Nick and Adrian showed me Stephen Jones's drawings for the 57 with three cabins, two en suite, I could see immediately that the layout was ideal as the starboard aft cabin, with its en suite heads and shower, would be perfect for friends coming to join us. That's exactly how things worked out in 2019 until, unfortunately, my brother passed away early at the beginning of 2020.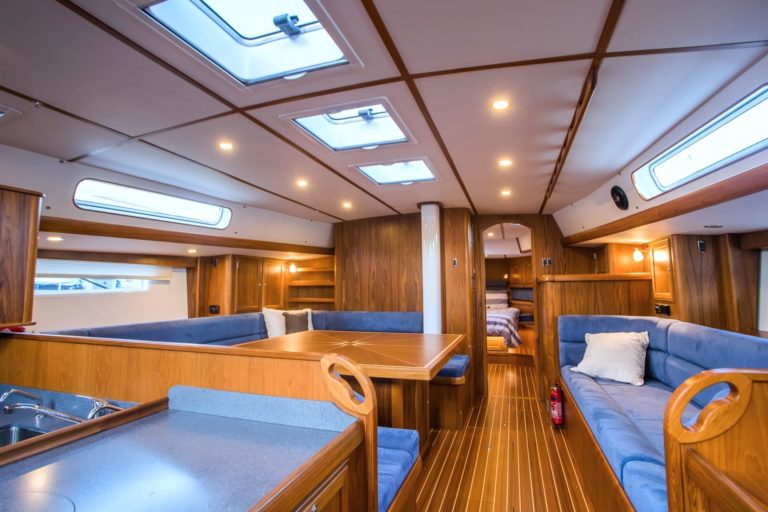 How was your boat customised for your needs?
Adrian, Nick and Stephen had prepared well refined plans – most of which I just liked. The only thing I didn't like about their first drawings was that another prospective customer had had them put pilot berths in the saloon. I said no as I would prefer the saloon to be open. Of course, if someone later wants pilot berths into another 57 then they can put them in again. That's one of the nice things about the way Rustler build boats – they have the ability to be very adaptable.
There is inevitably a little bit of Ian Robson in what is standard on the 57, as well of course as the input from Stephen Jones and Nick & Adrian. Obviously, they had the final say but I was the first owner. We didn't have any significant disagreements; the way they do things is very much in line with my way of thinking.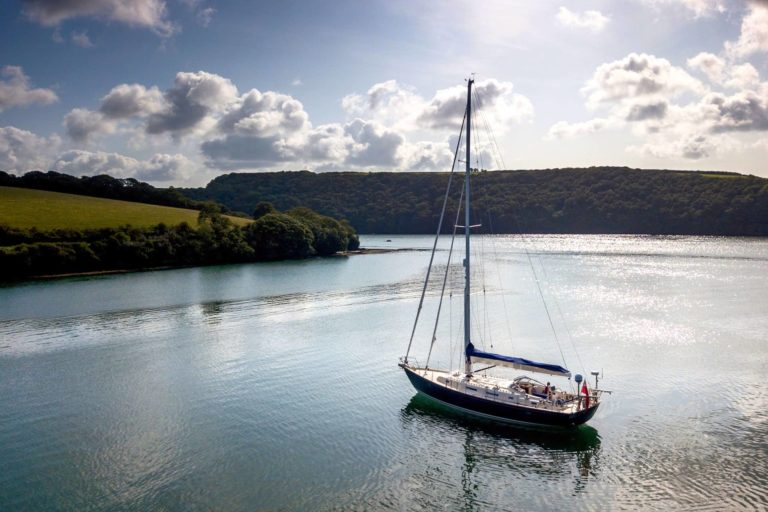 Whose idea was the lifting keel?
The lifting keel was my suggestion. I remember sitting in Nick and Adrian's office and asking 'How deep does Stephen think the keel needs to be?' They said 2.5m. I sat there thinking to myself, being a dinghy sailor, that 2.5m is probably not enough for a 57ft boat to go to windward really well (a racing yacht that size would be 3m+). But I also sat there as an East Coast sailor thinking that 2.5m draught would be more than I wanted. So I asked 'Have you and Stephen discussed fitting her with a lifting keel?"
Adrian said 'No we haven't but we'd love to explore it – a lifting keel would also be great for the East Coast of America market' So Nick talked to Stephen who had already designed several yachts with lifting keels; they talked to Irons Brothers at Wadebridge, the UK foundry who have made lots of lifting keels – and they came back and said yes. And it has been a brilliant choice.
Rustler Yachts: The lifting keel solution we developed for Ian's Rustler 57 is a one-ton bronze centreboard that retracts into a lead centreboard case. It's very different to most other lifting keel systems, as we'll explain in a forthcoming article.
Having sailed her now, I'd never have a boat of that size again without a lifting keel. The way Stephen, Nick and Adrian came up with doing it is very clever. It doesn't affect the interior one little bit, it's completely hidden beneath the saloon table which would be there anyway. You do get some intriguing looks when you turn up in a new harbour. You can see people thinking 'A boat of that size, can it really go there?' We've had so many people call out 'It's only two metres here!' and I reply 'That's all I need'.
How did the build of the new Rustler 57 compare to the build of the 44?
When Rustler was building our 44 I used to come down about once a month. Because I was working, I used to meet Nick on the Saturday which is actually one of the nice things about the yard. Nick was always prepared to come in and allow me to and see the yard and the build – but it meant I never really got to meet any of the guys who were working on the 44. It was nice to be able to correct that with the 57. Now I'm retired I was able to go in and personally meet the crew who were building the boat.
"Rustler even arranged for me to meet the Synolo team to see what they were doing and make sure I got what I wanted"
I saw the plug being made on a five-axis milling machine at Mouldcam in Poole and the hull being moulded in Cornwall. The 57 was the first boat Rustler had done on a fully CAD basis and they worked with Synolo in Ipswich. Synolo took Stephen's drawing and concepts and produced a lot of the detailing needed for the build on a big CAD model. Because I live in Suffolk, Nick and Adrian even arranged for me to meet the Synolo team to see what they were doing and make sure I got what I wanted. I was able to watch as Rustler and Synolo developed all the details of where things were going to be in the boat.
For example, I wanted a big TV and a satellite aerial and it was about looking at the options, where they would fit and so on. They were very good at listening to my fairly fixed opinions and telling me what worked or what didn't. There were some things I had in mind that they researched and in most cases they came back and said yes we can do this or do that. In other cases they said 'No we can't do that and this is the reason'. It was all a really nice process and made for a most enjoyable build project.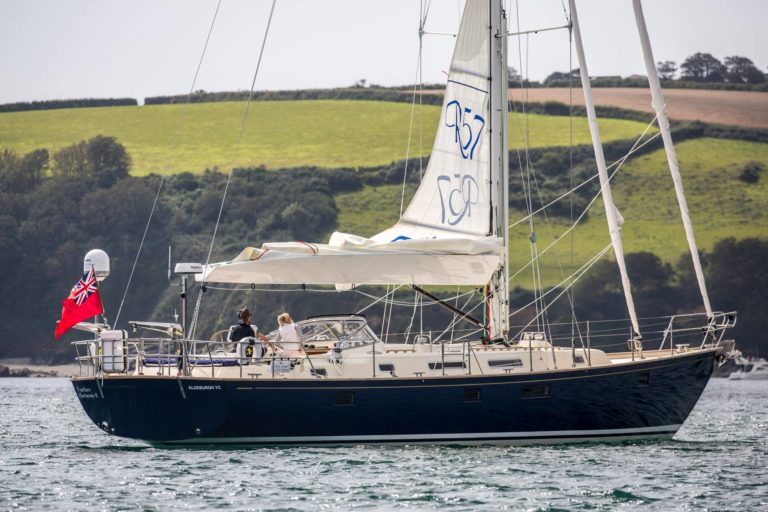 I wanted failsafe slab reefing but it was Seldén that persuaded me to go for the Y-boom and it's brilliant! You can sail up to just outside almost any harbour, however rough the day, undo the mainsail halyard and it just rattles down into the boom and is held sufficiently that you don't have to do anything else until after you're inside in the calm and moored up when you then zip the sail cover on. Whilst at sea you barely even have to go up on deck, the mainsail just comes straight down to be held in position by the boom and the lazyjacks that fold away on a loop when sailing leaving a completely clean and uncluttered main.
What were your sailing plans when you bought the 57?
I had a dream. With the 44 we went around Britain with a dogleg off to Scandinavia. When we got to Stornoway my brother was keen to go to the Faroe Islands but I refused – I didn't feel I had quite enough experience to do that trip at that time.
Looking back on everything we did with the 44 – taking her up the Norwegian coast to Tromsø and Lofoten, we didn't go to Russia, but we crossed Sweden on the Göta canal, made it all the way east to Helsinki and generally sailed all around the Baltic – and remembering my brother's wishes, what I would love to do and I don't know if we ever will, is a crossing of the North Atlantic to America, hopping there via the Faroes, Iceland and Greenland. But we'll see what happens. Everything has been on hold over the last year.
Where have you cruised in her?
She was handed over to me in July 2019 and we've since been over to France a couple of times. We sailed to Roscoff and back to Falmouth in 2019 as a proving trip. Later that year we sailed east from Falmouth to Poole Harbour, then south through the Channel Islands and onto North Brittany. We returned her to Falmouth in early November 2019 and laid her up at Rustler Yachts for the winter of 2019-2020.
Last summer it wasn't until July 4th that we were allowed to start cruising again but when we did, we were perfectly placed and one of the first boats to reach Scilly – we were there by July 8th. Scilly was fantastic, it was the best weather I've ever had there.
On the day we returned, the yacht absolutely charged back, so much so that we were heading for Falmouth but by the time we passed the Lizard we realised that we could make it to Fowey and still be in time for supper ashore. We sailed from Lizard to Fowey in about 3.5 hours on a lovely sunny afternoon in a northwesterly. In late July we left Falmouth and cruised all the way east to Aldeburgh in Suffolk via the Channel coast and North Foreland. She spent about a month in Suffolk before we did a further six weeks cruising in Holland last September and early October before we laid her up over there for winter 2020/21.
"She's a big comfortable yacht but because of the lifting keel she can go almost anywhere. She's also a delight to sail"
What is she like to sail, what are her best qualities?
I love the flexibility. She's a big comfortable yacht but because of the lifting keel she can go almost anywhere. She's also a delight to sail. Just watch Toby's video. And she's quicker than I was expecting. The day we crossed to Holland, we sailed from Lowestoft to IJmuiden (around 107 miles) and we did it in 10.5 hours. It was a perfect day. The wind was southwesterly, which makes that a broad reach. When my brother and I sailed her to Roscoff and back on our first trip after delivery it was also a broad reach and she just sat there making 9.5 knots with ease.
We do most of our sailing under main, yankee and staysail but because everything is push-button, this boat is easier to sail than the 44 was – we've got electric furlers on the yankee and the staysail. I specced this boat on the basis that I was 60 when I was doing it and unfortunately I've reached a stage in life when I'm not going to get any stronger. So everything is push-button and that has worked out just great.
What's been the best thing you've added on board?
The retractable bow thruster has been fantastic! Every boat with a thruster that I had used before had had a tunnel thruster. Inevitably the tunnel is quite close to the surface and so tunnel thrusters tend to cavitate. The retractable thruster is just amazing. The way it will pull the bow off a berth when the wind is pushing you on, you know you can get off and it amazes me how powerful that is – it just makes berthing so easy in a big boat.
What would you change if you knew what you know now?
Nothing. Actually there is one and it can't be changed. The one thing Nick and I disagreed about during the build was nothing to do with the boat or the interior, it was where the mainsheet was going to go. Stephen had originally drawn the boat with the mainsheet coming off the boom onto the coachroof and Nick and I both said 'We're not having that'. So we talked about it and after ruling out an arch I said 'Why can't we do it like the 44 and just make the boom longer so the main sheet falls aft of the cockpit?'
So that's what we did but on the Rustler 44 Rustler had added a wider bridgedeck behind the cockpit coaming aft of the helm to take not only the mainsheet track and but also the folded bimini/cockpit tent. Unfortunately the 57 wasn't designed like that and it's the thing we missed. So the folded bimini sits on the teak coaming but Gavin at Penrose Sails, who made a lovely cover for it, added a piece of leather to the cover where the mainsheet runs against it. So there's no issue – it's just that I know we could have made the solution even slightly better having had a 44 – but no other 57 owner ever would.
There was also one other thing, Rustler often put a Corian worksurface in the galley of its boats which is a great touch. When you spec Corian you can have grooves for the draining board cut into the Corian and that's what the 44 galley had. But that was missed on my 57 so we don't have the grooves in the draining board – but I'm sure her sisters will.
"I very much hope there are more would-be Rustler 57 owners out there. There should be because she's a lovely boat"
However, you can tell from what I'm saying that there's not much wrong with the boat.
From the start I was always determined to buy boat number one, and not a prototype. Nick, Adrian and the whole build team at Rustler were committed to that same goal and I'm delighted to say they've achieved it.
If someone were thinking of buying a Rustler, what would you say to them?
Go ahead, you won't be disappointed.
What next for you and your boat?
The plan this year is to sail from Holland up to Germany, through the Kiel canal, to Sweden and around the south coast of Norway, then cross back to Inverness, through the Caledonian Canal and lay her up on the west coast of Scotland next year. But it depends on when we're allowed to travel and how long for.
I very much hope there are more would-be Rustler 57 owners out there. There should be because she's a lovely boat. She's more of a sailor's boat than many of her competitors. I like to think there are people out there who would enjoy owning a 57 in the same way as I know I'm going to in the years I'll own her.