What makes our boats special? They certainly stand out from the crowd. Part of the answer is in our motto – beautiful yachts, beautifully built – but there's a lot more to it than that. To misquote Aristotle, the hull is more than the sum of its parts. Timeless good looks and modern-classic lines, fine craftsmanship and exceptional build quality all help to define our brand, but the other thing about all Rustlers is simply how well they sail.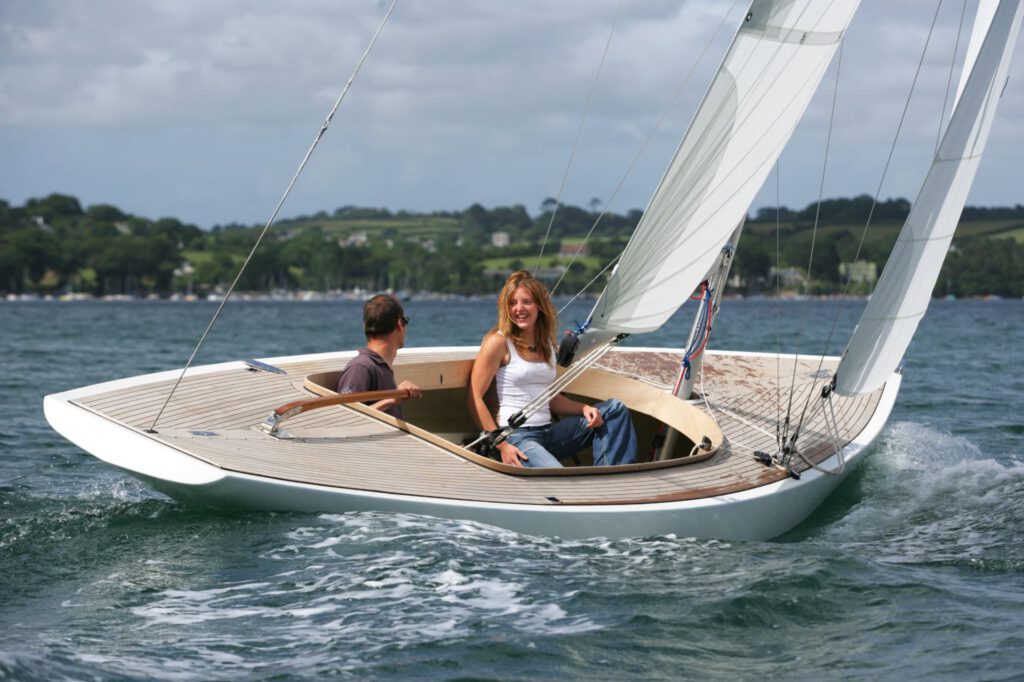 We build a wide range of sailboats from open daysailers and coastal weekenders to various styles of offshore and ocean cruisers. Some are new, modern designs; others we've been building and refining for 20 or even 40 years. What they all have in common, despite their different sizes and types, hull shapes, keel and rudder configurations, is that they're beautifully balanced and well-mannered under sail with a good turn of speed, a smooth, comfortable motion, superb stability and a helm that feels so good you won't want to let go. Another thing that sets Rustler Yachts apart is that every model in our range offers a real, distinct and refreshing alternative to the typical yachts of that type.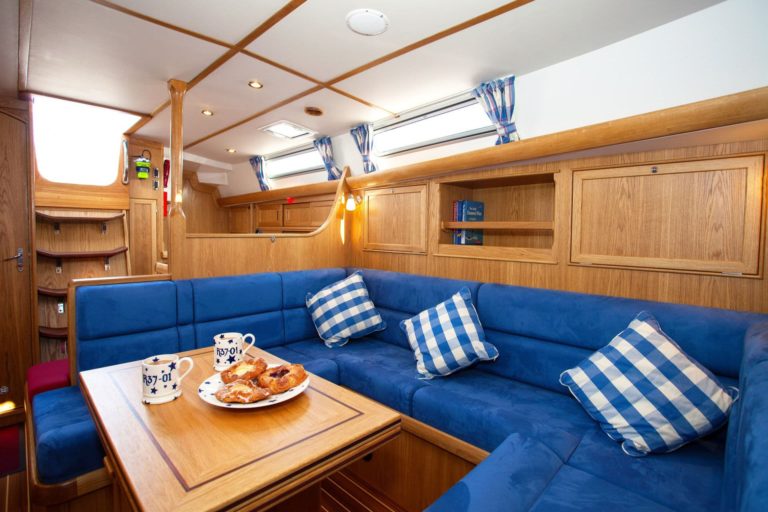 World class craftsmanship
Our boats don't just look nice; they're beautifully built with traditional values and shaped by highly skilled craftsmen, not just assembled on a factory production line. "If something looks right, it is right" is the honest belief of our shipwrights and it informs everything we do here at Rustler – combined with modern boatbuilding methods and structural engineering expertise, of course.
We believe beauty is more than skin deep. Strip back the elegant sheer and spoon bow that you'll find on all our sailboats and you'll find beautiful details in the design and build, all the way down to the keel. But that doesn't make them old-fashioned. The way they're built is a carefully calibrated blend of the best modern materials, processes and technologies with traditional skills, knowledge and craftsmanship.
Rustlers are built to last at least a lifetime and they feel reassuringly stiff and solid as a result – you really can feel the difference under sail. There's no flexing underfoot, the floorboards don't squeak and the hull won't change shape and jam the cabin doors, even if you're unlucky enough to spend several days beating into a gale.
Excellent build quality, proper attention to detail and a very high standard of finish can be seen throughout. Look under the cabin sole, inside lockers, beneath the bunks and you won't find rough or ragged edges. (You'll appreciate that when you spill something into a galley locker.) No corners are cut, except where it's done to improve ergonomics. That's what we mean by beautifully built.
Better by design
Our go-to naval architect for our yachts, Stephen Jones, has an innate skill of penning pretty, practical boats with excellent all-round performance, good manners and easy handling. We like our yachts to have a graceful sheer line, not just for aesthetic reasons – it raises the bow, reduces pitching in choppy seas and gives a dryer ride. Our boats have a high ballast ratio to boost seakeeping ability, crew comfort and boatspeed upwind. You'll probably agree that less time spent bashing to windward is a far greater luxury than a beer fridge or barbecue built into the cockpit (but you can have them too if you want).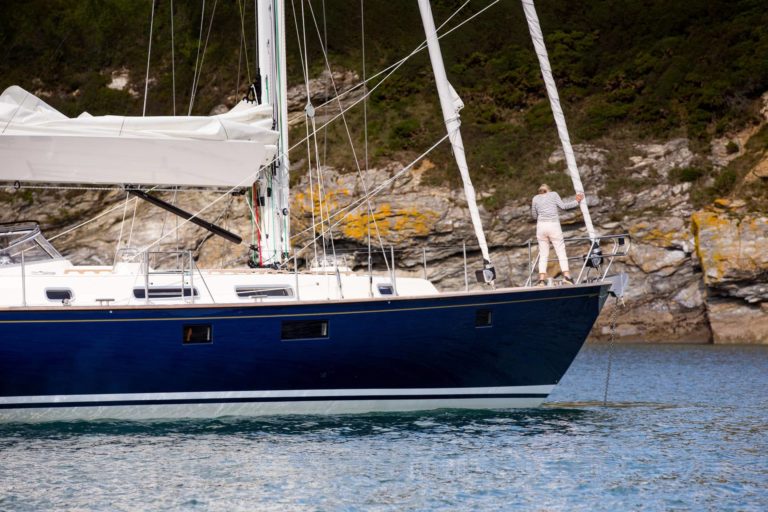 We use lead for ballast rather than steel because you get a lot more righting moment for the same overall weight, so she won't sail on her ear or need to be reefed in a moderate wind. Our hulls maintain a balanced waterplane as they heel, so they track straight and true in gusty conditions – they won't suddenly round up to windward with the rudder losing grip. This directional stability is a great advantage for long-distance cruising, improving the performance of your autopilot and reducing the electrical power it needs on passage.
Relaxed and rewarding
Ocean cruising Rustlers are renowned for their rock-solid performance in strong winds and rough seas, yet like all of our boats they're also a joy to sail in fair weather – comfortable and quick, responsive and rewarding for helm and crew, with plenty of controllable power. They're also easy to handle. Our cockpits are laid out and equipped so one person on watch can manage the boat alone. We make our cockpits deep and safe, with ample space to host friends in an anchorage and plenty of elbow room for a full crew to work the boat and move around each other while sailing – not too wide open, though, as excess space can be a hazard.
Our interior design also sets us apart, and it's not just the finely crafted joinery and clever stowage solutions. The key difference is subtle in harbour but under sail it's obvious. Every last detail of our interiors is designed to be safe, practical and easy to use at sea, in any sort of weather you're likely to encounter, so you can move around in a rough sea state with ease and cook in the galley with confidence. There aren't any sharp corners to fall against and the grabrails fall naturally to hand – there's one within reach whenever you need it.
Another thing you'll notice when sailing a Rustler, especially down below, is the boat's smooth, comfortable motion. That's partly due to hull and keel design but it also has a lot to do with optimal weight distribution. Believe it or not, life on board in 35 knots of wind can be genuinely enjoyable, as quite a few Rustler owners have discovered while crossing the Atlantic. One of the UK's top delivery skippers recently said we're his favourite brand of yacht to deliver – we're flattered but not surprised.
Function, not fashion
We embrace innovation but we don't follow fashion; we make stylish and practical boats. Fashionable yachts have an engine wedged between their two aft cabins, a few inches from the occupants' heads. We put the engine low down in the saloon because that's the very best place for stability and ease of access. Fashionable yachts have vertical bows that need a long, protruding bow roller to keep the anchor clear; our sweeping bows hold the anchor close to the hull, yet it doesn't foul the chain.
Fashionable yachts have sterns that slap noisily in a harbour or anchorage with a bit of surge; ours are designed for a good night's sleep. But we're not averse to fashionable features when they're appropriate. An unsupported spade rudder just isn't strong enough for our ocean cruisers, for instance, but it's ideal for the nimble Rustler 33, which also has a vacuum infused foam-cored hull.
Bespoke for a perfect fit
We build our boats on a semi-custom basis. So do most other premium builders, but it's a loosely used term and there can be a lot of difference in what you actually get. For us, semi-custom means more than just offering a long list of options and extras, pre-set packages and colour schemes. Every Rustler is precisely and personally tailored for her owners, to suit their style of sailing and their cruising plans. We build hulls in standard shapes to keep costs under control and to ensure a much higher level of reliability than a full custom build, but everything else can be customised, with a hugely experienced team of cruising and racing sailors on hand to offer all the expert advice you might need. From major decisions like the accommodation layout, sailplan or deck plan down to specifics such as stowage for your boathook or the bottle rack in your drinks locker, Rustler owners get a boat that's absolutely right for them. That's why they tend to hang onto their yachts for such a long time.
Choosing a boat is intensely personal and buying one should be a thoroughly enjoyable experience. That's why we offer a completely personalised service, which doesn't end when you sail away. For however long you own your Rustler, excellent after-sales service, advice and support are assured.
Many Rustler owners like to be immersed in the boatbuilding process from start to finish. You can visit the yard many times and gain an intimate knowledge of your boat, inside and out, while watching it take shape. You'll get to know the craftsmen and women who are building your boat, and they will get to know you. This gives you a level of knowledge, understanding and sheer joy of ownership that only a handful of boatyards can provide and we're proud to be one of them.
That, in a nutshell, is what makes Rustler Yachts special. You don't have to fit into a yacht that's built for the mass market. We build beautiful, practical yachts for individual sailors like you.